Finding a treasure too great to keep
A Dozier seventh-grader used whitepages.com to track the owner of a class ring.
By MATTHEW STURDEVANT- Daily Press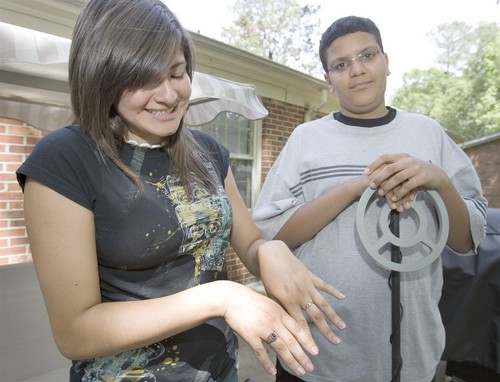 May 21, 2008
NEWPORT NEWS
Dozier Middle School student Joshua Velazquez keeps most of what he finds with his metal detector. He even wears the faux diamond earring he found at Yorktown Beach. His father, Jose Velazquez, has a metal detector, too, and has a wood-and-glass display case for his findings, which include rare coins and some relics. But when Joshua, 13, found a 14-karat white gold class ring with a ruby, inscribed with Woodside High '08 and the name Vivianne M. Corrales, he felt compelled to find the owner and return it.

Joshua found the ring May 9, while scanning the sand at Yorktown Beach near a fenced-in patch of grass between the Yorktown Pier and the George P. Coleman Bridge, which carries drivers over the York River to Gloucester. Later that weekend, he and his parents searched Google for various combinations of Vivianne Corrales in Newport News, but had no luck. They figured the ring's owner probably lived in the 23608 ZIP code because it was inscribed with Woodside High. So they turned to whitepages.com and searched for "Corrales" in 23608. There was one match, complete with an address and phone number.

Joshua's mother, Evelyn, called Vivianne on Sunday after Joshua had been back to Yorktown Beach with his metal detector and found another ring in about the same spot that he found the class ring. They both belonged to Corrales, who didn't even know they were missing. The Woodside senior was at the beach with friends on May 8, when she took the rings off to keep from getting a tan line and folded them up in her jeans. The rings must have fallen out, but Corrales hadn't checked the jeans since she had been to the beach. Not only was she missing her class ring, but she had lost a friendship ring that her sister Leslie, 25, had given her several years ago.

"I would have really missed them," Vivianne said of the rings.

It was a lucky day of metal detecting, Joshua said.

He is a junior member of the Hampton Roads Recovery Society, a group for people who search with metal detectors. The group has a code of ethics, including a protocol to return things that can be traced to an owner. Some people who search the beaches operate by the "finders keepers" rule. But it was Joshua's choice to find the owner and return the ring, his father said.

"I'm proud of his decision to turn it in," Jose Velazquez said.
Who found it:
Joshua Velazquez
What is it:
10K Gold Class Ring
& Friendship Ring
Where was it found:
York Beach
Read the Story that appeared on the Front Page of the Daily Press
-------->